I was Born in Kidderminster, the middle son of 3 boys. My fathers passion for travel took us to various places around the world, we lived in Africa and Australia and was an exciting childhood. Wherever we went we had cats, the first one I can remember from the age of three was 'Pickles the fire Cat". I used to find cats and bring them home but couldn't understand why my father would make me take them back to where I found them, rather than let them join our family.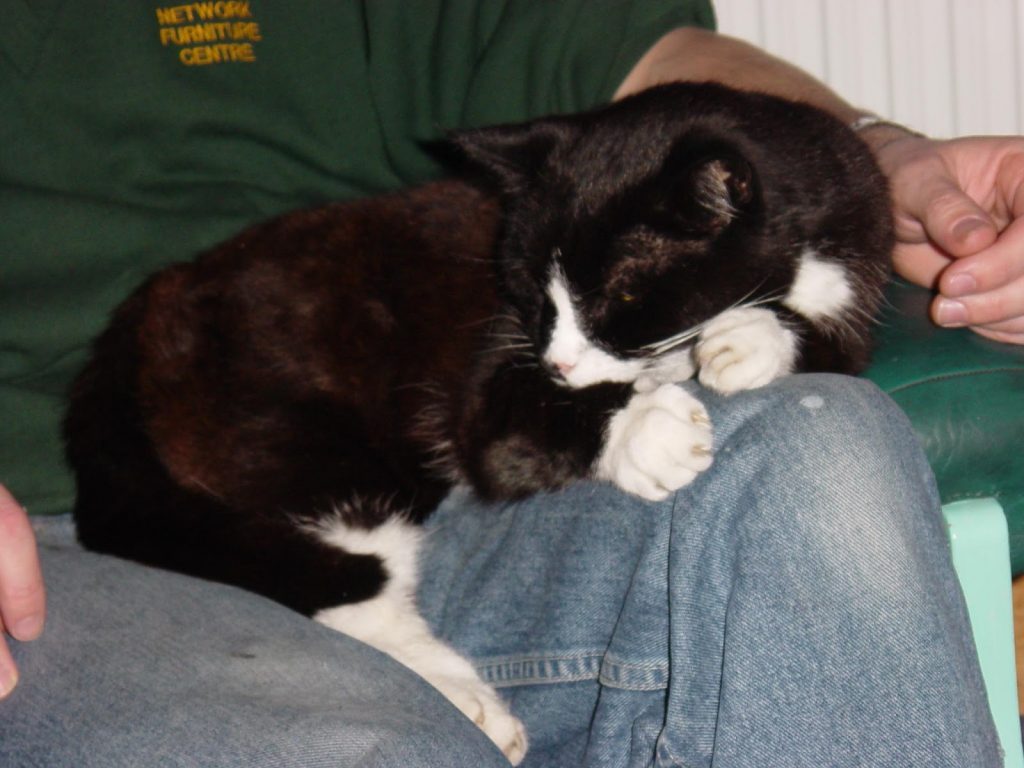 While living in lodgings in Kidderminster I began my journey with Art and cats. I would sit in the same armchair, hood up and headphones on, drawing anything and everything from my imagination. Ricky, an enormous back and white Tom cat was also part of the household, he and the ginger tom a few doors down used to battle for control of the street. He was a well loved character, grumpy and very vocal, the kind of cat that didn't crave human affection but would make his presence known. I think because I had rather long thigh bones reminiscent of tree branches he would come and drape himself over my leg like a leopard. We became good friends and he was my first subject in a cat painting.
At age 29 on the strength of my portfolio Kidderminster college accepted me for a 2 year art foundation course and it was here that I got into ceramics. As I was struggling with reading and writing a lovely lady called Marion arranged for me to be assessed by the College for the Blind in Hereford where I was diagnosed with dyslexia and she helped me with some coping strategies. I had left school at 16 without any qualifications but for the 1st time in my life I passed an exam, an A level in 'Art in Architecture' and gained a distinction in BTEC diploma Art Foundation, setting me up for 'The Horace Stamford Memorial Prize' for highest achievement in my year. I then attended Stafford College of figurative sculpture for 2 years and attained an HND at distinction level.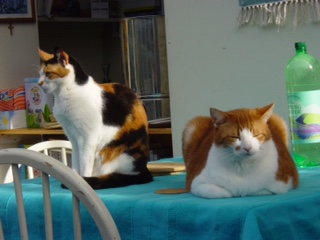 On leaving Stafford I moved to London with a fellow student. We lived in a 2 bed, very cold single brick mushroom shaped cottage in the midst of a yard full of garages. We lived upstairs and turned the living room downstairs into a studio. He brought Fi Fi with him, an almost wild and very knotted grey Persian cat whom his mother had used for breeding. Eventually she let me groom and back comb her, this became a daily routine until one day she sadly disappeared. For my birthday some friends (knowing I missed Fi Fi) decided to give me a pair of kittens – Daisy, who was tortoiseshell and white and Fat Cat, a marmalade and white Tom.
I became dad to numerous litters of kittens as Daisy kept escaping before I could get her neutered and they were all reared in my room. Although 'Fat Cat' was not the father, he had a beautiful nature and was the most loving uncle to his nieces and nephews, keeping them clean and in order until I managed to find good homes for all of the kittens. Charlie and Poppy who were kittens from the last 2 litters become inseparable and went to live with my friends in Kidderminster. Sadly Charlie died of liver failure shortly after moving, we think he got poisoned.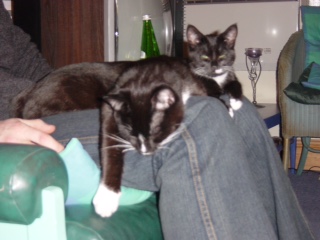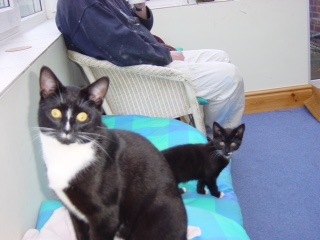 After being in London 9 years, developers bought the garages and It was time to leave. This was obviously not a safe situation for Daisy and Fat Cat so they too went to live in Kidderminster. With the encouragement of my brother I moved to a house in Exeter, but there were no pets allowed so my babies stayed in Kidderminster when I moved. Tragically Fat Cat also died from poisoning which broke my heart as he was very special, but happily Daisy and Poppy are still going strong. Unfortunately I still live in a place which would be unsuitable for cats, but one day I hope to have a garden so that I am able to have cats again.
On moving to Exeter I became a founder member and director of a community of artists setting up affordable studio spaces, which is still going strong. I now spend most of my waking hours doing odd jobs for people or working on projects in my studio. Animal relief's being one of my many interests.
Please feel free to contact me: Rolfe Custom Cats or speak to Jane on 07949968276